Enter desired order quantities below, then click the "Add selected quantities to cart" button.
Ferodo Brake Pad: FF, Formula Mazda, Girling 14LF (D044)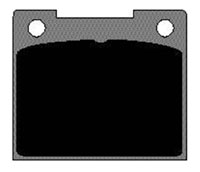 FMSI D044. Fits:
1964-66 Ford (Europe) Cortina Deluxe and Super
1964-73 Lotus Elan
1962-73 Lotus Europa P5 / Europa Series II
1964-73 Lotus Super Seven
1966-68 Peugeot 204
1967-80 Triumph Spitfire Mk III / IV
The Girling 14LF (533) caliper was also fitted to many Formula Ford 1600 cars and the original Formula Mazda. Also fits Alcon R Type / 4R Type and Girling D14R calipers.

Note: This pad can also be used in the smaller Girling 12SP (528 / FMSI D62, Spitfire Mk I & II) caliper with minor modification to the backing plate. Simply trim 0.035" (0.9mm) from the outer edges (12SP pad width is 2.43" / 61.8mm).

2459 Compound: A racing compound for middle-weight sedans and sports racers. The medium temperature range (maximum 1200° F) makes it suitable for cars up to 1800 pounds. Sticky tires are recommended to take advantage of the high friction level.