Enter desired order quantities below, then click the "Add selected quantities to cart" button.
Ferodo Brake Pad, Ford Cortina, Girling 14LF/1 (D051)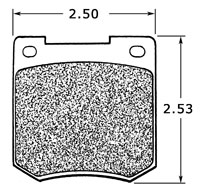 FMSI D051. Fits:
1967-70 Ford (UK) Cortina 1600 (including GT)
1972-76 Jensen Healey 2.0
1966-94 Morgan 4/4 and Plus 4 (1600 and 2.0L only)
1967-68 Sunbeam Tiger

This is basically an "extended" version of the standard 14LF (D044) pad shape, with slightly more swept area close to the rotor hat. Overall height of backing plate is 2.5 inches (standard 14LF is 2.15" overall).

4003 Compound: A racing compound developed specifically for lightweight, low-inertia cars (Formula Ford, Formula 3). 4003 offers considerably higher friction than DS11 at much lower temperatures (below 800° F). Also recommended for the rear axle on front-drive cars.
DS11 Compound: (Formerly 2465) DS11 has a well-earned reputation as a very hard, long-wearing racing compound. The very high temperature range (maximum 1380° F) makes it an excellent choice for heavy cars and hard tires (where short, intense braking is not possible) or endurance racing.