Enter desired order quantities below, then click the "Add selected quantities to cart" button.
Hawk Brake Pad: Audi, VW (D687), w/ Wear Sensor Slot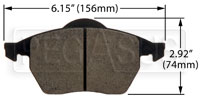 FMSI D687. This pad has a provision for mounting the factory wear sensor (wear sensor is not included). HB272 is the same pad without the wear sensor slot. Fits the following Audi & VW models:
2000-06 Audi TT 1.8 & 1.8 Quattro (with wear sensors)
2004 Audi TT 3.2 Quattro (with wear sensors)
1999-2005 VW New Beetle 2.0 (with wear sensors)
2001-02 VW New Beetle 1.8 (with wear sensors)
2006 VW New Beetle 2.5 (with wear sensors)
2008 VW New Beelte 2.5 S & SE (with 288mm rotors and wear sensors)
1996-99 VW Jetta GLX 2.8 (with wear sensors)
1998-99 VW Passat GLS 2.8/GLX 2.8 (with wear sensors)
1997-2004 VW Golf GTI 2.8 & GTI VR6 2.8 (with wear sensors)
2006 VW Golf GTI 1.8T* (with wear sensors)
* Some cars had optional brakes that take a different pad. You must compare pad shapes to determine the correct pad.

Blue Compound (E): Medium/High torque brake compound. A reliable performer with a wide temperature range. Low pad and rotor wear rate with good brake modulation characteristics. #1 selling pad material for SCCA racing. Recommended for Road Racing and Rally applications where low to mid temperature effectiveness is critical. Also known as "Blue 9012".

HP Plus Compound (N): This unique compound can take the heat at the track and get you home safely. Designed for the serious street and Autocross racer. Due to the dramatic friction level produced by this compound, rotor wear, noise, dust and pad life may be affected when used for city driving. 100-800° F.

HPS Compound (F): HPS = High Performance Street. This compound will outperform OEM pads without sacrificing street manners. A good choice for Solo II; also recommended for amateur to intermediate drag racing. Effective from dead cold.