Enter desired order quantities below, then click the "Add selected quantities to cart" button.
Hawk Brake Pad: Ford Trucks, IHC Scout II (D50)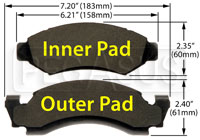 FMSI D50. Fits:
1977-86 Ford Bronco
1973-78 Ford Country Squire wagons
1975-86 Ford Econoline E-100 and E-150 Vans
1973-85 Ford F-100 and F-150 Pickups
1973-76 Ford F-250 Pickups
1977-83 Ford F-250 Pickups w/Single Piston caliper
1976-79 Ford Ranchero 500, GT, & Squire
1974-80 International Harvester Pickups & Scout II
1977-78 Jeep CJ5 & CJ7
(As well as several 1970s full-size and mid-size Ford/Lincoln/Mercury cars)

Hawk SuperDuty compound has been developed exclusively for towing and hauling heavy loads. Using technology engineered for large commercial trucks and military vehicles, the high-temperature effectiveness and fade resistance are ideal for tow vehicles hauling everything including the kitchen sink. Note: This compound is not recommended for daily use! It is for heavily-loaded trucks, SUVs, and wagons only.