Enter desired order quantities below, then click the "Add selected quantities to cart" button.
OMP Seat Bottom Cushion for HTE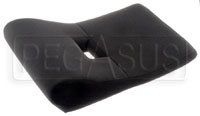 These wedge-shaped pads measure 12.5" wide at the rear edge, 14" wide at the front edge, and 19.5" deep. They are designed to fit the bottom of the OMP HTE seat, but they can be used on most racing seats. The very firm foam cushion is covered with the same flame-retardant fabric as an OMP racing seat, and an opening is provided for your anti-sub straps. Velcro® hooks on the back allow you to stick it to a fabric-upholstered racing seat in exactly the position you need. Sold individually, black only.

Choose 20mm (3/4"), 35mm (1 3/8"), or 50mm (2") thick (measured at the back edge of the pad). The front edge is approximately 3 inches thicker than the back edge.