Enter desired order quantities below, then click the "Add selected quantities to cart" button.
OMP 4-Position Steering Wheel Spacer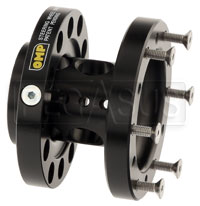 This anodized aluminum spacer is designed to bolt between your 6-bolt steering wheel hub and your 6-bolt steering wheel. Adjustable height moves your wheel 24mm (1"), 34mm (1 3/8"), 44mm (1 3/4"), or 54mm (2 1/8") closer to the driver.
Dual bolt pattern fits both OMP/MOMO/Sparco/Raid 6x70mm (2 3/4") wheels and Nardi/Personal 6x74mm (2.9") wheels. Once the spacer is adjusted to the desired length, three radial bolts hold it solidly in position. For racing use only; not intended for highway use.

Note: This spacer has a "spigot" projecting out the back end. A hollow steering wheel hub is required. It will not work with any of our quick-release steering wheel hubs.