Enter desired order quantities below, then click the "Add selected quantities to cart" button.
OMP Sport Line Nylon Belt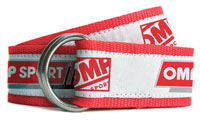 This comfortable woven nylon belt uses the same twin D-ring buckle as your helmet strap. Infinite adjustability means you're never stuck between two notches! Red background has a white overlay with red, white, and grey OMP Sport logos.
This belt is an excellent choice for wearing between sessions on hot days at the track. It is much lighter and more flexible than leather, so it doesn't restrict movement or make you sweat as much. It can even be used to secure lightweight items in the trailer if you run out of bungee cords!