Enter desired order quantities below, then click the "Add selected quantities to cart" button.
PFC Racing Brake Pad, 94-04 Mustang Rear (D627)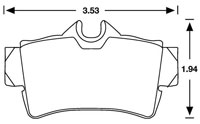 Fits the rear of all 1994-2002 Mustang, Mustang Cobra, and Bullit Mustang (FMSI D627).

97 Compound was developed as an endurance compound for IndyCars, but it quickly became a favorite of sportscar endurance racing. It has less initial bite and average torque than 01 Compound, but higher bite and torque than 90 Compound. The very flat torque curve and enhanced release characteristics allow great modulation. It is recommended as a rear pad in applications that tend to lock the rear brakes.