Enter desired order quantities below, then click the "Add selected quantities to cart" button.
Shock Doctor Power Karting Adult Chest and Rib Protector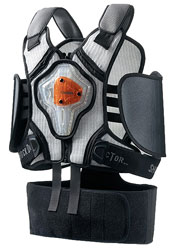 Designed to provide the ultimate in breathability, lightweight comfort, protection, and ease of use, the Power Karting Chest/Rib Protector features patented Heart-Gard technology, high-impact rib pads and a removable kidney belt. The unique Heart-Guard design dissipates dangerous impact forces away from the heart while the super ventilated breathable 3D mesh offers even more cooling airflow than other vests on the market today.

Approved for use in both IKF and WKA Events.

Adult Chest Protector Sizing
Size
Medium
Large
Weight
135 to 165 lbs
155 + lbs
Height
5' 6" to 6'
5' 8" +
Age (typical)
14 and up
16 and up