Enter desired order quantities below, then click the "Add selected quantities to cart" button.
Simpson Adrenaline Shoe, SFI Approved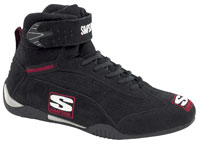 The Simpson Adrenaline is available in smaller sizes than other Simpson racing shoes. The fire-retardant mid-top design features a suede leather exterior with a lace-up closure and a single hook-and-loop strap around the ankle. The molded soles give great traction without sacrificing pedal feel. Black with red and white Simpson logos on the side and on top of the toes. SFI 3.3/5 approved in all sizes.