Enter desired order quantities below, then click the "Add selected quantities to cart" button.
TechKewl Phase Change Cooling Vest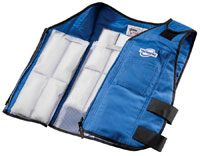 Unlike other Cool Vests on the market today which require you to freeze ice packs prior to your event, the TechKewl Cool Vest contains a natural phase changing material that freezes at a cool, but not cold, 58° F. Simply put the packs into a cooler of ice water for about 20 minutes and your vest will stay cool up to 2 hours in a 100° F environment. Ideal for use in racing, cycling, and karting.
Features lightweight, compact undergarment styling with wide, Velcro®-adjustable elastic straps at the waist and shoulders for comfort . Two pockets in the front and 2 pockets in the rear let you adjust the cooling as you need it. Place cool packs in all 4 pockets on hot days, 2 packs in the front or in the back on medium-hot days, or just one pack in one pocket for a little cooling.
Comes complete with one set of 4 cooling packs. We also offer Replacement TechKewl Cool Pax (Part No. 2745-021). Buy an extra set and rotate them for all-day cooling!

Three sizes available to fit most drivers:
M/L fits 100-175 lbs
L/XL fits 175-250 lbs
2XL fits 250-300 lbs