Enter desired order quantities below, then click the "Add selected quantities to cart" button.
Formula One Nose Coat Hanger (specify color)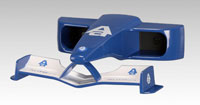 Why settle for a boring old coat hook? Hang your hat (and coat) on this detailed replica of a Formula One front end!
The sturdy metal casting measures 6 1/4" wide x 4 1/4" deep x 1 3/4" tall and mounts directly to your wall with two screws for strength. Each side of the front wing can hold a hat or coat, or standard hangers can be hooked over the nose and held in place by the wing. Available in Blue/White or Red/White to match your favorite team. Includes screws and plastic wall anchors. Sold individually.