Enter desired order quantities below, then click the "Add selected quantities to cart" button.
TIF Pyrometer Replacement Probes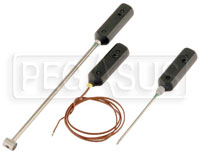 These probes work with TIF Model 7000 and 7050 Pyrometers, Part #3166 and #3167. TIF probes are designed to be interchangeable without any adjustment or calibration, so you can easily add probes to your pyrometer kit as you need them.

Note: These probes work only with TIF Pyrometers made after 1992.

Pictured left to right: 1000°F Air Probe, 500°F Immersion Probe, and 500°F Penetrating Probe (not the same as the Tire Probe).

While supplies last -- these probes will not be backordered.