Enter desired order quantities below, then click the "Add selected quantities to cart" button.
Clear PVC Heat Shrink Tubing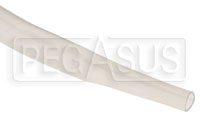 This PVC heat shrink tubing is ideal for covering braided stainless hoses. It provides additional abrasion protection, while keeping dirt and grime out of the braid. Size listed is the nominal ID before shrinking. The tubing will shrink a maximum of 35%. Shrink with a heat gun or high-wattage hair dryer. Sold by the running foot.
The 3/8" (.375) size is perfect for covering both -3 and -4 brake hoses.