Enter desired order quantities below, then click the "Add selected quantities to cart" button.
Brunnhoelzl Warrior Jack Re-Seal Kit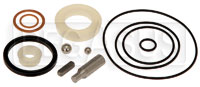 These complete kits include everything you need to keep your Brunnhoelzl Warrior pit jack working like new! All the seals and common wear parts are here, from the piston O-rings to the valve balls. Versions are available for the 3-pump and the 6-pump Warrior jacks.

Please Note: While there is a possibility that some of the seals in this kit may fit another brand of jack, the kit is assembled exclusively for the Brunnhoelzl Warrior jack. We do not recommend attempting to install it on any other brand.
Using these seals on a different brand or model could cause dangerous and unpredictable results, including sudden and catastrophic failure of the jack.