Enter desired order quantities below, then click the "Add selected quantities to cart" button.
Pegasus Gift Certificate, (specify amount)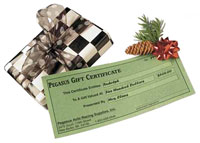 After clicking "Add selected quantities to cart", an Interactive Order Form will allow you to enter the names of the persons giving and receiving the gift certificate. These names will be printed on the certificate for you.
Note: If the only item on your order is a gift certificate, it will be mailed to you at no charge. Any shipping charge shown on your order will be removed after you submit your order.
If you would like to purchase a gift certificate with a value that is not listed here, please call 1-800-688-6946 during regular business hours. You can request a certificate in any denomination when ordering by phone.
How Do I Redeem My Pegasus Gift Certificate?