Enter desired order quantities below, then click the "Add selected quantities to cart" button.
Stack ST230C 125mm Classic Tachometer, Black Face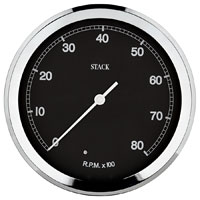 This item qualifies for FREE Shipping in the continental United States!
The Stack ST230C Classic Tachometer features the same micorprocessor controlled stepper motor movement as the Stack Clubman Tachometer (Part No. ST200) for rock-steady, no waver operation throughout the RPM range. The classic chrome bezel, lightweight needle, and classic markings make this the ideal replacement for a mechanical tachometer in a vintage racecar. Even the Stack logo has been given a retro look! Features maximum RPM tell-tale function, waterproof case, and easy hookup to Stack shift lights (sold separately). Unique stepped case mounts in either a standard 80mm (3 5/16") opening or the larger 125mm (5 inch) Porsche opening. Compatible with points, electronic, and magneto ignition systems.



Stack ST230C Manual