Enter desired order quantities below, then click the "Add selected quantities to cart" button.
Hyperco High-Performance Chassis Springs, 36mm I.D.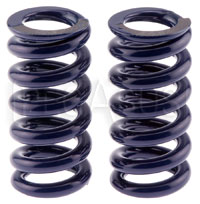 This item qualifies for FREE Shipping in the continental United States!
Chassis springs are one of the most critical components affecting the handling of a racecar. Poor quality springs can prevent the most talented driver and crew from getting a car dialed in due to inconsistent and continually changing spring rates and ride heights. Don't waste your racing budget on a spring that won't hold its rate through half a season. Hyperco springs will perform season after season. They are finished with a tough epoxy powder coat that offers unmatched durability. Sold in pairs.