Enter desired order quantities below, then click the "Add selected quantities to cart" button.
Flo Fast Tether Line with Plug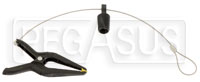 This is the same tether assembly included with Flo Fast pumps. The clamp keeps your Flo Fast pump discharge hose from pulling out of the filler while you pump. A hose plug is included to minimize spills and leakage when the pump is not in use.

The standard hose supplied in Flo Fast pump kits is 3/4" ID. The 5/8" ID is the optional "unleaded" hose. Be sure to order the correct size for your filler hose.