Enter desired order quantities below, then click the "Add selected quantities to cart" button.
AeroCatch 2 Plus Flush Panel Fastener, Set of 2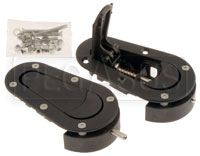 This item qualifies for FREE Shipping in the continental United States! If you include other items that don't qualify for free shipping, freight charges will be reduced accordingly.
The AeroCatch 2 is a new twist on the old hood pin concept. Hidden inside the modern, low-profile housing is a stainless steel clevis pin which into a hole in the rim of the stationary structure. This eliminates the need for threaded hood pins sticking up out of the stationary structure. The clevis pin and actuating mechanism are enclosed and protected by the aerodynamic thermoplastic housing.

Using the AeroCatch 2 is simple -- even simpler than using conventional hood pins!
To close: Simply lower the actuating lever which is built into the housing. You don't have to line up the clevis pin with the hole in the receptacle. You can even do it blindfolded with one hand behind your back! Press down on the actuating lever to engage the secondary latch and prevent accidental opening. Even if the secondary latch is not engaged, the clevis pin is still engaged!
To open: Push on the secondary latch button (if engaged) and lift the actuating lever. The pin is captured inside the housing, so you don't have to keep track of the pins when they are disengaged. The actuating lever gives a clear visual indicator of the status of the pin (disengaged, engaged, or latched).

The AeroCatch 2 was designed specifically for marine applications, but it can be used on pit carts, toolboxes, interior panels, or any other non-critical panel fastening application. For applications where accidental release could pose a significant danger, we recommend the original AeroCatch Panel Latch (Part No. 3038-001).

"Plus Flush" mounts with a 6-bolt flange (3/32" thick) on top of the panel. Flange measures 2 3/4" x 5". This flange covers the edges of the cutout, so your cutting does not need to be very accurate. Available in paintable black (shown) or white. Sold in pairs.

Other versions available:
Non-Locking Plus Flush Mount AeroCatch (Part No. 3038-001)
Locking Plus Flush Mount AeroCatch (Part No. 3038-002)
Locking Flush Mount AeroCatch (Part No. 3038-003)
Non-Locking Flush Mount AeroCatch (Part No. 3038-010)

Hint: Apply a piece of contrasting tape or paint to the secondary latch button to make it easier to find!



Aerocatch 2 dimensioned drawings