Enter desired order quantities below, then click the "Add selected quantities to cart" button.
Stainless Steel Inner Hose Support Coil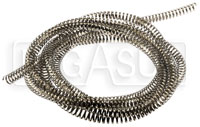 Vacuum service is one of the most severe hose applications on a race car. Dry sump scavenge systems are designed to pull so much vacuum that it actually affects piston ring sealing.
Standard rubber-lined AN hose requires some type of inner support or it will collapse under less than 30 inches of vacuum. This flat-wound stainless steel spring is made by Aeroquip to be a tight fit inside stainless braided or Startlite (aramid braided) hose. Simply cut the hose to length and cut the spring approximately 4" shorter than the hose. Insert the spring into the hose, then install the hose ends. Sold in 20 foot lengths.

Internal Support Coil Specifications
AN Size
Coil OD
Part Number
-8
0.51"
3228-600-08
-12
0.73"
3228-600-12
-16
0.94"
3228-600-16