Enter desired order quantities below, then click the "Add selected quantities to cart" button.
Center Slug Only for F-1 Wired Hub (No Lemo Connector)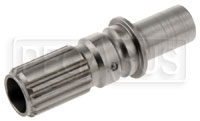 This is the replacement splined shaft (slug) only for our either of our F-1 Splined Quick Release Hub with Wiring Connectors, Part Nos. 3407 and 3419-025.
20mm splines, available to fit a 5/8" or 1" diameter shaft. It will accept either an 8-pin or 12-pin Lemo connector (not included).