Enter desired order quantities below, then click the "Add selected quantities to cart" button.
Staubli Non-Spill RMI Quick-Release Socket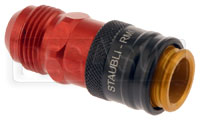 The RMI series from Staubli is a low-cost alternative to the Staubli SPT series of dry disconnect fittings. The brass bodies (steel on the 16AN size) feature stainless steel locking balls, stainless steel release sleeves, and fluorocarbon seals for compatibility with most oil, water, and petroleum fuel applications. Maximum operating temperature of 300° F allows working pressures to 230 psi (pressures below 145 psi can increase the operating temperature to 390° F). 6AN RMI sockets can mate to 6AN or 8AN RMI plugs, and 10AN RMI sockets can mate to 10AN or 12AN RMI plugs.


Staubli RMI Series Flow Rates at 5 psi
Fitting Size
Flow Rate*
Gallons per Minute
6AN
4.5 gpm
8AN
4.5 gpm
10AN
10 gpm
12AN
10 gpm
16AN
18 gpm

*Using standardized oil with a viscosity of 13.4 cSt at 104° F (for comparison, gasoline has a viscosity between 0.4 and 0.8 at 104° F and Red Line 5W30 oil has a viscosity of 10.6 cSt at 212° F).