Enter desired order quantities below, then click the "Add selected quantities to cart" button.
Plate Nut Double Wing Standard Drill Jig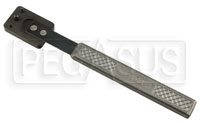 These handy drill jigs have the proper spacing to fit either the MS21047 Fixed Nut Plates or MS21059 Floating Nut Plates. Sizes 06 through 10 have 0.688" rivet spacing; 1/4" size has 1" spacing. All sizes have a hardened tool steel bushing for a #40 drill bit.* Each size has its own handle style for quick identification. Sold individually.
* A #40 bit will drill the appropriate size hole for a 3/32" rivet. The 1/4" jig can also be used for 5/16" and 3/8" nut plates, but you must ream the rivet holes to 1/8" diameter.

Note: Fits MS21047 and MS21059 nut plates only. Does not work for metric nutplates.