Enter desired order quantities below, then click the "Add selected quantities to cart" button.
Metric Floating Nut Plate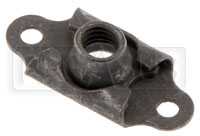 These lightweight, low-profile plates are an excellent way to install a captive nut behind a panel. They are very similar to MS21059 Floating Nut Plates, but in a metric version. (There is currently no military spec for metric nut plates.) The floating nut in these nut plates allows for some misalignment in assembly.

Metric Nutplate Dimensions
Size
Thread
Size
Length
Width
Height
Rivet
Size
Rivet
Spacing
3
M3
(3x0.5mm)
23.2mm
10.6mm
3.2mm
2.5mm
(3/32")
17mm
4
M4
(4x0.7mm)
23.2mm
10.6mm
5.2mm
2.5mm
(3/32")
17mm
5
M5
(5x0.8mm)
25.2mm
10.6mm
6.2mm
2.5mm
(3/32")
19mm
6
M6
(6x1.0mm)
29.2mm
13.1mm
7.1mm
2.5mm*
(3/32")*
22mm
8
M8
(8x1.25mm)
33.2mm
15.5mm
8.2mm
3.3mm
(1/8")
26mm

* The specification sheet for FM5000 nutplates calls out 3.3mm / 1/8" rivet holes on this size, but only 2.5mm / 3/32" rivet holes are available.

Note: We recommend a drop of oil on the threads the first time a screw is installed in these self-locking nutplates. This is especially important in the smaller thread sizes. We have seen heads twisted off of screws due to the high installation torque even though the nutplates are coated with a solid lubricant. The initial insertion polishes the threads. This slightly lowers the torque during subsequent insertions.