Enter desired order quantities below, then click the "Add selected quantities to cart" button.
Weber Primary Idle Jet, 32/36 DGAV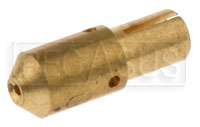 This large jet is only found on the primary side of certain carburetors equipped with an idle control solenoid, including the DGAV/DGEV and some DGV. It is designed to be held by the idle control solenoid assembly instead of a jet holder. The solenoid extends into the jet to shut off fuel flow when the ignition is turned off.
This jet measures about 0.155" diameter, larger than the more common 32/36 DGV / DGAV Idle Jet (Part No. 1587). Note the consistent OD where the air inlet hole is located in the side of the jet. The larger diameter makes it too big to fit in the standard idle jet holder.
The smaller (1/8" diameter) jet, which has a necked down portion around the side air inlet hole, is much more common than this large jet. The small jet is used on the secondary side of all DGV/DGAV/DGEV carburetors, the primary side of most DGV carburetors, and on both sides of many other Weber downdraft carburetors.
Jet sizes refer to the diameter of the fuel outlet hole. Larger size numbers indicate a richer idle mixture. The size of the air bleed hole in the side is fixed (no "F" number variation). Sold individually.