Enter desired order quantities below, then click the "Add selected quantities to cart" button.
Weber Idle Jet, IDA Dual, F10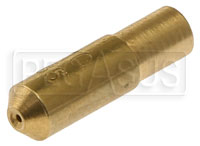 These idle jets fit the Weber IDA dual-throat carburetor. Weber normally supplies new 48 IDA carburetors with size 70 idle jets, but many applications work better with smaller 60 or 65 jets. Two required per carburetor. Sold individually.
Note that although Weber assigned these idle jets an F number (normally indicating control of air flow) as well as a size number (indicating control of fuel flow), the F10 designation was intended solely to identify these jets as fitting the IDA. Instead of a range of different F numbers, the idle jet holder on the IDA has a calibrated orifice (0.60mm, 1.00mm, or 1.20mm) to control air flow. This jet has no air bleed hole in the side, only a fuel inlet hole at the tip. The size numbers follow a linear sequence, with larger numbers allowing a richer idle mixture.

Note: Weber IDA triple-throat carburetors (40IDA 3C or 46IDA 3C, as used on Porsche 911) use the Weber 32/36 DGV Idle Jet, Part No. 1587.