Enter desired order quantities below, then click the "Add selected quantities to cart" button.
#35 Chain Kart Clutch Drive Sprocket (specify tooth count)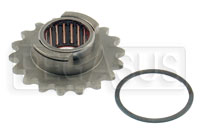 Premier BSJ replacement kart clutch sprockets fit Buller®, Jammer®, SMC®, Noram Cheetah®, & GE Ultimate® clutches as well as Premier's Stinger, Titan World Formula, and Titan Mini-Cup clutches. Comes complete with needle bearing and snap ring. Available with 12 to 22 teeth.