Enter desired order quantities below, then click the "Add selected quantities to cart" button.
Briggs & Stratton Carburetor Needle Valve Assembly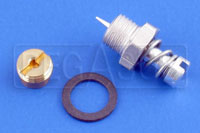 Complete needle valve assemby for Briggs carb includes needle screw, spring, washer, o-ring, nut, and gasket. These particular parts are subject to corrosion especially when used with alcohol. Even if you're running pump gas it's a good idea to have a couple of spares on hand. Kit includes a .036" jet.