Enter desired order quantities below, then click the "Add selected quantities to cart" button.
Ferodo Brake Pad, Sports 2000, AP/Lockheed LD65 4 Piston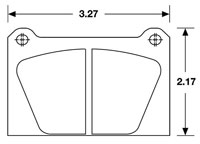 Fits 4-piston Lockheed LD65 "Metro" caliper, commonly found on Sports 2000 cars.

3410 Compound: A "soft" racing compound, with a high coefficient of friction and relatively low temperature range (maximum 1020° F). Recommended for lighter cars with downforce and soft tires. You must be able to take advantage of quick, hard braking to avoid overheating these pads. One of the first asbestos-free Ferodo racing compounds.