Enter desired order quantities below, then click the "Add selected quantities to cart" button.
Leg Support Cushion for OMP Seat, specify color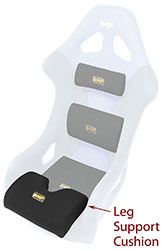 This cushion measures 13" x 8.5" x 3.5" thick (330mm x 215mm x 90mm) with a U-shaped cutout in one long edge for your anti-sub straps. The soft foam cushion is covered with the same flame-retardant fabric as an OMP racing seat and features the same embroidered OMP logo. Velcro® hooks on the back allow you to stick it to a fabric-upholstered racing seat in exactly the position you need. Sold individually.