Enter desired order quantities below, then click the "Add selected quantities to cart" button.
PFC Racing Brake Pad, ZR34 Caliper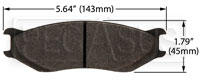 The 7934 pad shape was designed by Performance Friction specifically for use with the PFC ZR34 4-piston monobloc caliper.

05 Compound has a very smooth initial bite, virtually no friction rise with temperature, and excellent release and modulation characteristics. Its bite gained immediate favor in NASCAR due to its performance in coil-bind type front setups, where front lockup is difficult to manage. This compound demands the most from the vehicle setup and is designed to handle the most severe applications.
13 Compound has ultra-high bite and very high friction for sprint racing on high grip tracks or with very high downforce cars. Excellent release characteristics for smooth braking with exceptional control and modulation. Very high fade resistance at high temperatures. Pad wear is similar to 01 Compound, with superior disc conditioning. Lowest taper wear of any high-bite, high-torque pads on the market when used in properly designed race calipers. Recommended for fast cars with high downforce that can take advantage of increased bite in the first 1/3 of the stop.