Enter desired order quantities below, then click the "Add selected quantities to cart" button.
1.6L Ring Set, for .005" Oversize Pistons (4 Pistons)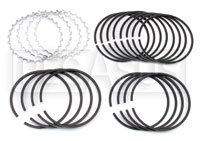 These special rings fit the .005" oversize bore (3.194") allowed on the SCCA Formula Ford 1600 Kent "Uprated" engine. You can adjust the oil ring tension to your exact requirements by slightly tweaking the oil ring expander. These rings are specifically for the Formula Ford 1600 .005" Oversized Pistons, Part No. 161-15-005 (sold separately). They do not fit the stock Ford pistons.
Note: These rings fit the SCCA .005" overbore (3.193" bore size) ONLY. They cannot be filed down to fit the standard (81mm / 3.189") bore size.

If your Formula Ford 1600 engine has the standard 81mm bore, you need our Piston Rings for Standard Bore Formula Ford 1600 Engines, Part No. 161-20-Std.