Enter desired order quantities below, then click the "Add selected quantities to cart" button.
Simpson Knitted Helmet Skirt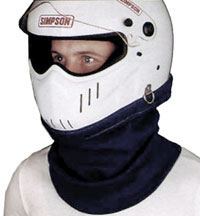 A Nomex® balaclava helps to protect your face and neck from burns, but the Simpson helmet skirt protects you while also keeping dust and debris from entering your helmet.
This thick skirt attaches easily to the bottom of any full coverage helmet with hook-and-loop tape (supplied). The soft-knit Nomex® construction allows you to tuck the helmet skirt into the collar of your driver's suit. Many other brands are designed to lay over the outside of the suit and are less secure. Use with a fire-retardant balaclava for the ultimate in protection. Black only.