Enter desired order quantities below, then click the "Add selected quantities to cart" button.
Simpson Latch & Link Wrap Mount Lap Belt, 32"-62", Pull-Up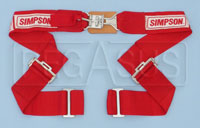 This 3" wide lap belt from Simpson is built with pull-up adjusters (pull towards the buckle to tighten). The ends are looped through 3-bar sliders for easy wrap-around mounting. The overall length is adjustable from 32" to 62" to fit a wide range of installation.
The exclusive compact Simpson Latch & Link lever design prevents inadvertent release. The forged steel buckle assembly is separate from the adjusters, reducing the size of the buckle for comfort. SFI 16.1 approved. Available in black, blue or red.

Belts are sold per seat. "Each" belt will cover one seat.