Enter desired order quantities below, then click the "Add selected quantities to cart" button.
OMP Tecnica Light Drivers Suit, 3 Layer Nomex, FIA 8856-2000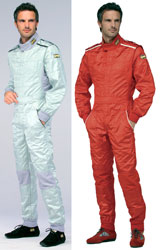 This item qualifies for FREE Shipping in the continental United States!
The Tecnica Light is constructed of an outer layer of shiny Nomex™ and two inner layers of an innovative new fire retardant fabric which reduces weight dramatically. A special treatment process also enhances the breathability of the fabric. Elastic knit fire retardant fabric panels in the knees, lower back, and under arm areas allow moisture to evaporate more quickly, further cooling the driver. Soft knit collar and a shorter belt allow even greater comfort. FIA homologated (8856-2000 standard). Available in Grey and Red only, sizes 48 through 60. Made in Italy.

While supplies last! The remaining inventory of this great suit is all that is available. When they are sold out, they will not be available again!

OMP Tecnica Light Suit Sizing Chart
Size
48
50
52
54
56
58
60
Chest
37"
39"
41"
42"
44"
45"
47"
Waist
33"
34"
36"
37"
39"
40"
42"
Hip
37"
39"
41"
42"
44"
45"
47"
Height
5'5" - 5'9"
5'7" - 5'11"
5'8" - 6'3"
5'10" - 6'2"
6'0" - 6'3"
6'1" - 6'6"
6'2" - 6'6"
Weight (lbs)
133-146
146-160
160-174
174-187
187-200
200-213
213-226