Enter desired order quantities below, then click the "Add selected quantities to cart" button.
Leading Edge Tape, Light-Duty 8 mil Thickness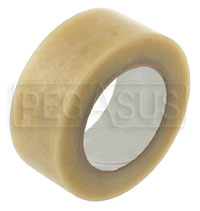 This impact-absorbing tape protects the leading edges of wings, suspension pieces, and air dams. It has good adhesive strength and is pliable enough to conform to slightly compound curves. Sand, gravel, and small stones that would quickly remove paint from these exposed surfaces just bounce off this tape. 108 foot (36 yard) roll.

Note: This inexpensive tape is mostly clear but with a slight brownish tint. It looks best when used over dark paint, carbon fiber, or metal parts with a black oxide finish.
We also offer a tougher, truly transparent Clear Surface Guard Tape (Part No. 3437-001) in shorter rolls in 2" and 4" width.