Enter desired order quantities below, then click the "Add selected quantities to cart" button.
Buna-N O-Ring for Quick Disconnect Assembly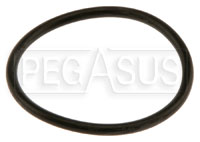 These Buna-N O-rings are designed for our Quick Disconnect Couplers. Buna-N rubber is ideal for coolant pipe applications. The rubber can withstand constant temperatures up to 212°F (up to 250°F with shorter life). O-rings are sold individually (two O-rings are required per male ferrule).

O-Ring Seal Dimensions
QDC Size
ID (relaxed)
OD
Cross-Sectional Area
Part No.
1.00
0.94"
1.20"
0.140"
3608-015-1.00
1.50
1.44"
1.70"
0.140"
3608-015-1.50
2.00
1.94"
2.20"
0.140"
3608-015-2.00*
2.50
2.44"
2.70"
0.140"
3608-015-2.50
3.00
2.94"
3.20"
0.140"
3608-015-3.00