Enter desired order quantities below, then click the "Add selected quantities to cart" button.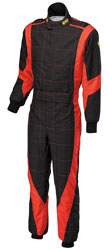 WEB SPECIAL SUPER SALE - Only $189 - while supplies last - Order Today!

Take your image to the next level without skimping on safety. The Champ Kart suit by OMP features a soft knit terry cloth interior with a durable Cordura® exterior in three different color combinations: Black/Red, Black/Blue, and Black/Grey. Each color combination has box quilting that matches the trim color. Meets CIK-FIA 2001/83. Available in sizes 44 thru 60.
OMP Champ Kart Suit Sizing Chart
Size
44
46
48
50
52
54
56
58
60
Chest
34"
36"
37"
39"
41"
42"
44"
45"
47"
Waist
29"
32"
33"
34"
36"
37"
39"
40"
42"
Hip
34"
36"
37"
39"
41"
42"
44"
45"
47"
Height
4'11" - 5'2"
5'2" - 5'7"
5'8" - 5'9"
5'9" - 5'11"
5'11" - 6'0"
6'0" - 6'1"
6'1" - 6'2"
6'2" - 6'3"
6'3" - 6'4"
Weight (lbs)
121-140
132-154
133-146
146-160
160-174
174-187
187-200
200-213
213-226