Enter desired order quantities below, then click the "Add selected quantities to cart" button.
6" Vinyl Kart Numbers, (pkg 10) specify color & number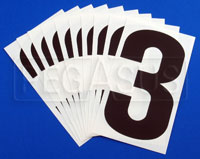 These 6" tall vinyl numbers are perfect for standard 7x10" karting number panels. Be aware that these numbers do not have a low-tack application layer and are considerably less sticky than our Premium 3M Vinyl Graphics. Available in Black or White, one color per pack. (The white background shown in the photo is the backing paper; the number comes off without any background.) Sold in 10-packs, one number per pack.
For more choices of sizes, colors, and font styles, we also offer Custom-Cut Pre-Spaced Letters and Numbers (Part No. 33 for standard colors and Part No. 32 for neon).

Note: SCCA requires numbers to be at least 8" high for Club and Pro Racing.