Enter desired order quantities below, then click the "Add selected quantities to cart" button.
Hawk Brake Pad: Cadillac 03-08 CTS, 05-08 STS Rear (D922)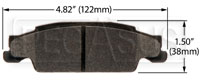 FMSI D922. Fits the rear of 2003-08 Cadillac CTS, 2005-08 Cadillac STS, and 2008 Cadillac STS Platinum. Does not fit CTS-V, STS-V, or either chassis with the performance package.

HPS Compound (F): HPS = High Performance Street. This compound will outperform OEM pads without sacrificing street manners. A good choice for Solo II; also recommended for amateur to intermediate drag racing. Effective from dead cold.
Performance Ceramic (Z): Formulated to be an ideal replacement for factory ceramic pads on luxury cars, with an emphasis on extremely low noise, low dust, and stable friction to prevent interference with ABS systems.