Enter desired order quantities below, then click the "Add selected quantities to cart" button.
Hawk Brake Pad: Saab, 04-05 Subaru WRX Rear (D1004)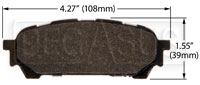 FMSI D1004. Fits the rear of the following vehicles:
2005-06 Saab 9-2X (incl. 2.5i, Aero 2.0/2.5, & Linear 2.5) rear
Several Subaru including 2004-05 Impreza WRX rear
Please see our Hawk Brake Pad Application Chart for a full list of years and models.

HPS Compound (F): HPS = High Performance Street. This compound will outperform OEM pads without sacrificing street manners. A good choice for Solo II; also recommended for amateur to intermediate drag racing. Effective from dead cold.