Enter desired order quantities below, then click the "Add selected quantities to cart" button.
Hawk Brake Pad, Subaru Legacy GT, Tribeca (D1078)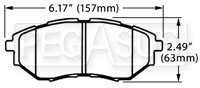 FMSI D1078. Fits:
2005-06 Subaru Legacy GT
2006-09 Subaru Legacy GT Spec.B
2007-09 Subaru Legacy GT Limited
2008-09 Subaru Legacy R Limited
2010 Subaru Legacy 3.6 R
2006-09 Subaru B9 Tribeca (incl. Limited)
2008-09 Subaru Tribeca (incl. Limited & Premeire)

Ferro-Carbon is a unique, high-tech family of friction materials developed and manufactured by Hawk Brake for the racing community. Hawk Pads do not require an extensive "bedding-in" procedure. Keep in mind however, that all disc brake pads require a short period of bedding-in before being used to the maximum of their potential.