Enter desired order quantities below, then click the "Add selected quantities to cart" button.
Hawk Brake Pad: BMW (D781)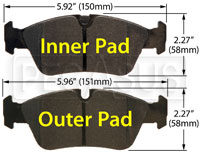 FMSI D781. Fits:
1998-99 BMW 323ic / 323is
1999-2000 BMW 323i (including 323i Sport Wagon) & 323ci
2001-05 BMW 325i
1998-2000 BMW 328i
1999-2002 BMW Z3 Coupe 2.8 / 3.0 (not Z3 M Coupe 3.2)
2000-02 BMW Z3 Roadster (not Z3 M Roadster)
2004-05 BMW Z4 2.5i / 3.0i
2003 BMW Z4 Roadster 2.5 / 3.0
2006-08 BMW Z4 Roadster 3.0i (not 3.0si)

Performance Ceramic (Z): Formulated to be an ideal replacement for factory ceramic pads on luxury cars, with an emphasis on extremely low noise, low dust, and stable friction to prevent interference with ABS systems.