Enter desired order quantities below, then click the "Add selected quantities to cart" button.
Hawk Brake Pad: Escalade, Silverado (D1092)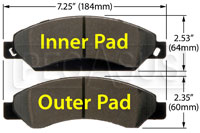 FMSI D1092. Fits late 2000's GM full-size trucks and SUVs, including 2007-08 Cadillac Escalade, 2007-08 Chevrolet Avalanche, and some versions of the 2005-08 Chevrolet Silverado. Please see our Hawk Brake Pad Application Chart for a full list of years and models.

LTS Compound (Y): LTS = Light Truck / SUV. Engineered just for the demands of working trucks and SUVs, not a repackaged passenger car compound! Drawing on over 40 years of experience with heavy commercial and military trucks, Hawk Performance have developed the LTS compound to provide better stopping power with less dust, noise, and wear than competing pads. Ideal for 1/2-ton trucks and SUVs that frequently haul or tow, but still a great choice for a daily driver.