Enter desired order quantities below, then click the "Add selected quantities to cart" button.
Universal Head Aluminum Aircraft Rivet (AN470)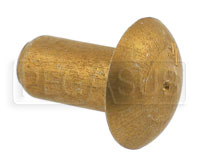 These solid-shank rivets are commonly used for assembly of sheet metal aircraft and aluminum monocoque race car chassis. The 350 lb shear strength and 450 lb tensile strength makes them suitable for structural use on interior and exterior applications.

MS20470 Rivet Specifications and Designations
Designation
Specification
Value
MS210470 / AN470
Part
Rivet, Solid Shank, Universal Head
AD
Material
2117-T4 Aluminum Alloy
-4
(first dash number)
Shank diameter
1/32" increments
1/8" D
-4
(second dash number)
Shank length
1/16" increments
1/4" L

The MS20470 number (supersedes AN470) has been adopted as the standard for protruding head rivets in the USA.
The 2114-T4 aluminum alloy (identified by the AD in the part number) is the most common rivet material for aluminum structures. It can be used as received without any heat treatment or annealing required.
Our Hand Rivet Squeezer (Part No. 1189) can be used to set the rivet when installed near the edge of a panel. If the distance to the edge is greater than 3 inches, a rivet gun and bucking bar will be needed. Sold individually.