Enter desired order quantities below, then click the "Add selected quantities to cart" button.
Red Line Synthetic Lightweight Racing ATF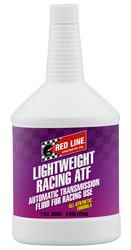 Red Line Lightweight Racing ATF is designed specifically for drag racing automatic transmissions. It provides the positive shifting of a Type F ATF, but the elimination of friction modifiers means faster shifts and quicker lockup for reduced ETs. Lightweight Racing ATF has a lower viscosity than traditional Type F for less drag, but the viscosity is also more consistent -- perfect for Bracket racing. The synthetic formula also provides enhanced protection under extreme pressures and five times better film strength than petroleum ATF for longer gear and clutch life. It can also be used in turbo or blown doorslammers (NMRA, NMCA, etc) instead of resorting to hydraulic fluid to deal with heat issues.

Red Line Synthetic Lightweight Racing ATF
Viscosity
@ 100° C
Viscosity
@ 40° C
Viscosity
Index
Brookfield Viscosity
@ -40° C
Pour
Point
Flash
Point
4.9 cSt
23.2 cSt
140
75 P
-50° C (-58° F)
240° C (464° F)