Enter desired order quantities below, then click the "Add selected quantities to cart" button.
Simpson Camlock Separate Strap HANS Shoulder Harness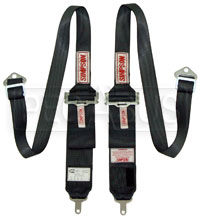 The Simpson Camlock HANS Shoulder Harnesses are designed for use with the Simpson Camlock Lap Belt. Straps are 3" wide from adjuster to buckle, and 2" wide from adjuster to mounting point. Available in black, blue, and red. Sold in pairs (enough for one seat), as shown in photo. SFI 16.1 approved.

Not for use without a HANS Device.