Enter desired order quantities below, then click the "Add selected quantities to cart" button.
Black Aluminum Barbed Hose End to AN Female, Unequal Size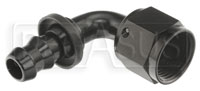 These special "reducer" hose ends make it easy to connect smaller hose to a larger male AN fitting without adding a reducer fitting. They are designed to work with our Black Textile-Reinforced High Temperature Hose (Part No. 3491, sold separately).
Our standard Black Aluminum Barbed AN Hose Ends (Part No. 3488) mate 3/8" hose to 6AN, 1/2" hose to 8AN, and 5/8" hose to 10AN. If you need to connect a smaller hose in a limited space, these angled ends may do the trick.

If you need a straight version, please use a standard hose end with a reducer fitting.

Installation Tips:
Use Oetiker Clamps to secure the hose in place for pressurized applications.
For maximum security, use 2 Oetiker clamps on each hose end. Rotate one clamp so the ears are clocked 90 degrees to the ears on the second clamp.

Installation Method 1 (The traditional way):
1. Clamp the hose end in a vise with soft jaws. To prevent straight hose ends from spinning, screw it onto a male AN fitting first.
2. Lube the barb with clean motor oil.
3. Slide the Oetiker clamp(s) onto the hose.
4. Warm the end of the hose in boiling water for 5 to 10 seconds. This makes the rubber more pliable.
5. Slide the hose over the barbed fitting with a twisting motion.
6. Install Oetiker clamp(s).
Installation Method 2 (for straight hose ends only):
1. Place the straight hose end on the Aeroquip Socketless Hose Assembly Tool (Part No. 3158-003, sold separately).
2. Lube the barb with clean motor oil.
3. Slide the Oetiker clamp(s) onto the hose.
4. Place the hose into the jaws of the Socketless Hose Assembly Tool.
5. Squeeze the handles together to grasp the hose firmly and pull the third handle to drive the hose end into the hose.
Installation Method 3 (the modern way):
1. Use our Koul Tools EZ-ON Hose Press (Part No. 3330-001, sold separately).