Enter desired order quantities below, then click the "Add selected quantities to cart" button.
Spare Bag for Creafoam Seat Kit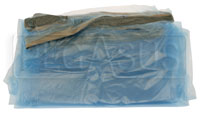 If you puncture or tear the bag in your Creafoam Bead Seat Kit, or if you use only a portion of the kit, you can get a replacement bag separately. The Small bag measures 48" x 60" and is the same size included in the Extra Small and Small kits. The Large bag measures 60" x 72" and is used in the Medium, Large, and Extra Large kits.

These strong, flexible bags can also be used with the Two-Part Foam Seat Insert Kit, Part No. 3385.